February 10, 2017
Sam Seager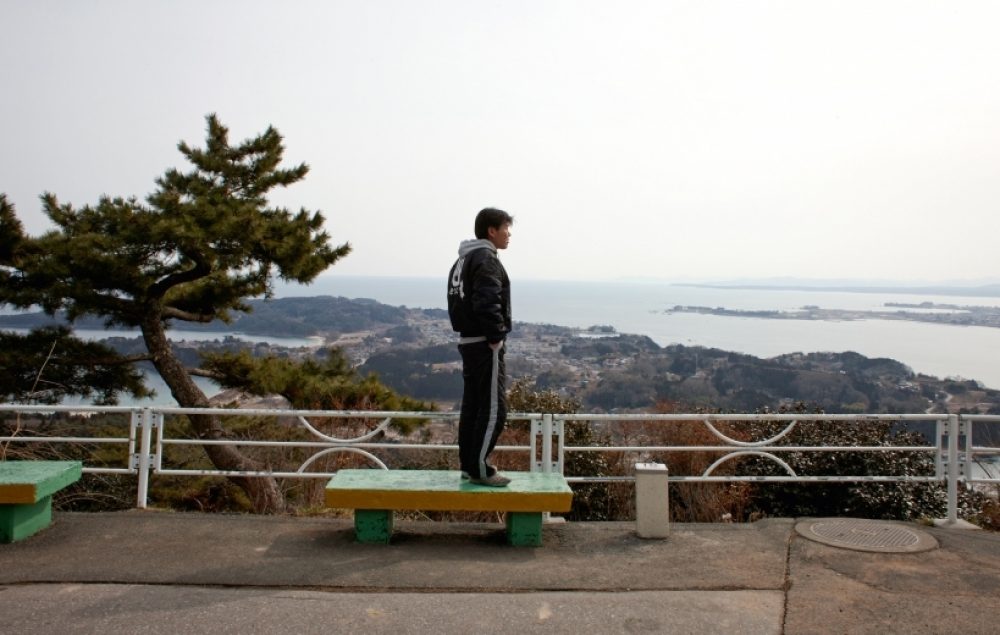 We ask photographer Sam Seager about the process behind his photo book Broken Things.
How long have you been taking photos?
I guess I started aged 12 when I came second in my school photography competition; my mini waterfall photos lost out to some baby squirrels and I was pretty gutted at the time!  Photography was something I had an interest in from an early age and I remember being fascinated by my Grandpa's old 35mm camera and the length of time it seemed to take him to compose a family portrait. I wanted to be that guy, holding everyone up as I fiddled with a camera.  Subsequently, I got a Minolta film SLR for my 18th birthday, and armed with that I started taking photographs with a learning process that was very much trial and error. The basic physics of photography are relatively simple but I did manage to make a lot of mistakes and the local processing shop manager always seemed happy to see me.  I took part in small group shows at university and started to develop a feeling for the types of image that inspired me and therefore ways of capturing that same atmosphere or aesthetic.  In a sense, I was developing a roaming eye that would look at the world and seek out images.  I think that's really important and as I was always a curious kid photography was a good fit – it gives you the cover to just snoop around.
Do you see yourself as a documentary photographer?
There are definitely elements of documentary in Broken Things* and previous photographs I've taken in rural Japan.  Of more importance to me, however, are aims that are perhaps more subjective, to transmit a sense of the people and places I visited, but one that is imbued with my own experiences and also seeking to develop a conscious aesthetic to many of the images.  WithBroken Things, the journey took in so many places in a relatively short time it became very important that the sequencing of the images as they appear in the book would flow as my emotions and experiences did on the trip. These would frequently be shared by others but also felt on my own and I was constantly aware, for instance, of how quickly a light-hearted moment could then be followed by something very sad and then, as the day progressed and sunset cast the land in a more beautiful light, you suddenly felt emotions changing again. That's difficult to capture but it meant my intention was less to tell a purely factual story and more that the sequence of images would hopefully project some sense of the emotional feeling and situation around the first anniversary.  I hope that makes sense – in all honesty it's something I'm still processing and working out. 
*BROKEN THINGS is available to purchase on Amazon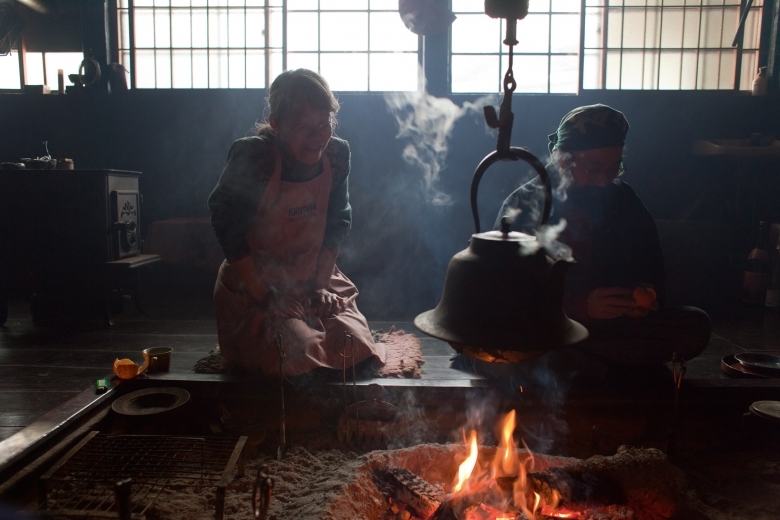 Which photographers inspire you?
I've always gravitated towards colour and my first loves were Guy Bourdin and William Eggleston, images that are sensual yet often have a fantastically sinister edge to them.  I'm a big fan of Alec Soth's work and the way he so readily communicates with the world through his company Little Brown Mushroom and regular blog updates. He's a photographer who seems at ease with modernity and yet still has a methodology that follows the almost nostalgic approach of someone like Steven Shore whereby travel, time on the road, and the pursuit of adventure lead to interesting places and people. There's also a real truth to his images, its warts and all and they seem to take you deep within the lives of his subjects. 
Since the exhibition of Japanese photo books at The Photographer's Gallery in 2011 I've become more interested in Japanese artists like Daido Moriyama, especially the way he can uncover romance in the kind of out of the way rural Japanese places that I like (see his book Tales of Tono, for instance). And the increasingly famous Rinko Kawauchi. Her deceptively simple work seems so invested in meaning and appears to be the product of a mind that seeks out beautiful moments in the simplest of places.  Technical excellence or rules of composition perhaps take a back-seat but her work is all the more inspirational for that. I love how liberating her work feels, and that's especially relevant for me at the moment when a lot of my focus and energy is on my 'real job' commissioning music videos.  Flipping through her books inspire me to keep snapping away and finding pictures in the world.  As a big fan of photo books, I find hers really beautiful.  Ametsuchi is her most recent, comprised of images of traditional burning of fields to create new pastures in Aso, Kyushu.  So that's something I'm really excited and interested by.  Inside the pages - which are printed on folded paper - you can peer in and see the negative of each touch.  That's a thought-provoking and visually pleasing touch to the book.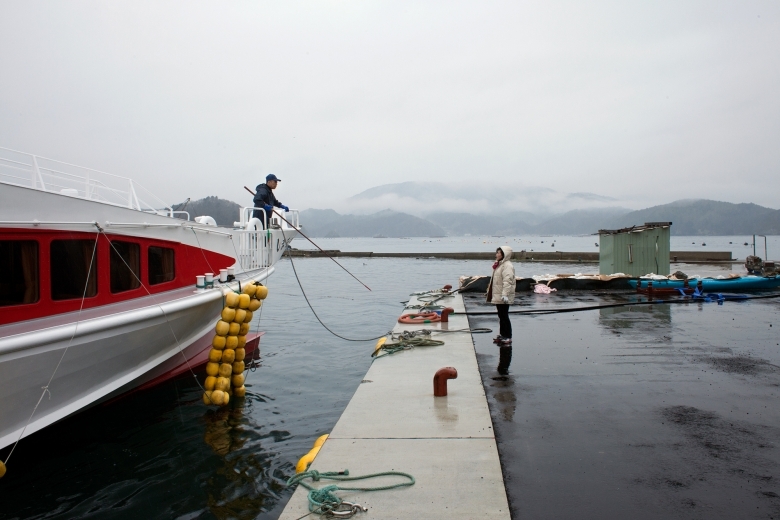 Do you work primarily in film or digital?
I love film and really respect how, by not being instant, it makes you focus more and enjoy the moment. I use it as much as possible but in kind of a snap shot way where it doesn't matter if it's over exposed or a little out of focus. For a project like Broken Things with a high volume of photographs and fleeting, powerful moments I did need the certainty of digital. Over the years I've grown to be a fan of digital, it's proved itself beyond any doubt, but still the greatest compliment someone can pay me is to ask if a photograph was taken with film.
Had you been to Japan before photographing Broken Things?
Yes, I doubt I would have gone to Japan to photograph the tsunami aftermath unless I'd been before. It felt personal because of the friends I've made there and the experiences I've had travelling around the country. In 2002 and 2010 I spent two stints of three months in Japan, firstly as a part time English teacher (a terrible one at that) just outside Tokyo, and then to photograph ageing rural communities. In both cases I felt humbled by the generosity and trust I was received with. At the end of my first trip in 2002 I travelled through Tohoku on local trains and saw the Japanese countryside for the first time; after being in Tokyo for three months it came as a revelation. When the disaster hit it was immediately apparent that at some point I'd have to see how things were for myself.
Will you be back?
Yes, that's a very easy question to answer; it's my third home (being half American my second is California) and if I don't then I'll forget my already pretty terrible Japanese. Most importantly, though, there are many friends to see, onsens to visit and karaage to eat. In all seriousness though, and I struggle to explain why, but the draw of Japan to me is deep and ever-present and there are future trips that I particularly covet: doing the walking pilgrimage around Shikoku, visiting the extremes of Hokkaido during winter and maybe one day cycling the length of the country.   My ambition is that by returning every year or so I'll be able to build up a large body of work on rural Japan at what feels like a pivotal point between the nostalgic traditional past and a future that may have to be more focused on creating efficiencies and remodelling how it works. 
The hiragana on Broken Things is quite unusual. Could you tell us a little about its design?
The title Broken Things actually came on only my second day on the trip, used by a retired history teacher who was driving me around to translate the Japanese gare ki which means debris, as we passed by some huge piles of twisted metal. It just stuck from then on, going around and around my mind for the next two weeks. I felt that it aptly described the state of both the built and human emotional worlds in Tohoku, nothing was unaffected by the disaster and yet to give in to despair and be defeated felt like the worst possible outcome.  'Broken' implies that over time the wounds can be healed, and it felt important that the title had a subtle second meaning like that. I asked a Japanese friend about how best to spell gare ki and he suggested hiragana because it would appear less formal, almost giving it a more naïve tone and leaven the darkness it could potentially project. The book, I hope, presents a nuanced view of the situation and as such getting the tone right was important. The actual font was designed by my friend Stu who designed the book; I'd asked if it might be possible to physically represent the jagged curves of the Tohoku coastline in the title. Driving along it, I was really struck by the numerous peninsulas and small bays that give it a very jagged and actually beautiful physical presence. Stu then painstakingly took pieces of the line of the coast in different areas from Google maps and then applied it to the outside of the characters to create the special font. The book itself is very simple and so it was a nice way of adding a very personal detail to it.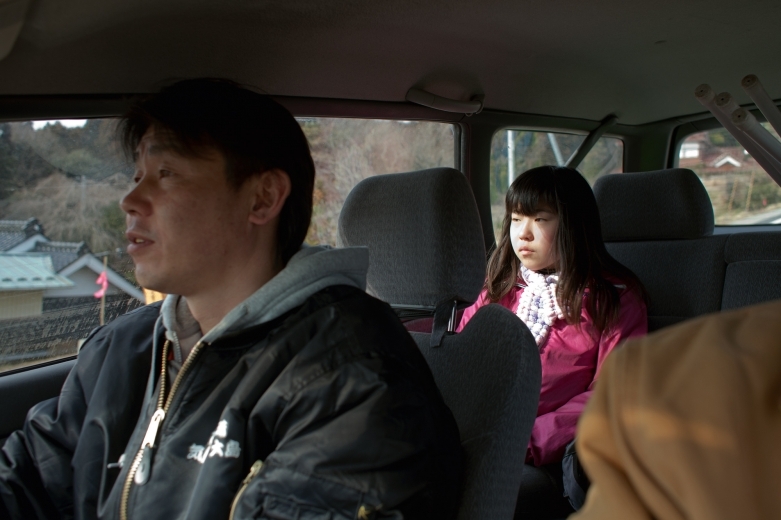 We found many of the images in Broken Things incredibly moving. What did you find the most affecting on your trip around Tohoku?
It was an emotional trip, everyone's seen the footage of the earthquake, tsunami and its aftermath but nothing really prepares you for the scale of the disaster and its human impact.  I'd never been anywhere like that to photograph and during the first few days I really couldn't process what I was seeing; it was almost like an illusion. I think that was due in part to the fact that the first town I visited, Noda-mura, had been severely damaged by the tsunami but with less loss of life and overwhelming destruction. There was still some of the small town remaining; although everyone I met had been deeply affected, the outlook was relatively positive. It simply hadn't prepared me for the really quite dizzying shock of seeing towns such as Rikuzentakata that had been completely levelled.  The emotion especially on this first anniversary was very palpable even for me as an outsider and over the next week all my preconceptions were really challenged.  I think it's true to say that I had gone into this journey feeling optimistic, my mind thinking back to two years before and the elderly farmers I photographed who had challenged my preconceptions with their energy and positivity.  As such, I had a view that people in Japan are almost superhuman in getting by and fixing things but the reality when I was there on the ground, and for obvious reasons because of the scale of the disaster, was very different.  Destruction on such a bewildering scale cannot simply be overcome; the act of just carrying on with life, keeping family and mind together was for many people I met the only ambition for now.
In Kamaishi I had a humbling experience meeting a man who had lost very close members of his family, his home destroyed, and yet he'd offered to help show me around.  This was two days before the anniversary and when we sat down to drink tea this story came out; but it was clear that to ask him to follow through on his kind gesture would have been impossible.  He told me about how he used to enjoy walking during the early morning at a beach near his home called Nehama, the tsunami had stripped away all the sand but now it was slowly coming back and I should visit it at that time of day. It was moments like these, other conversations on the journey, that demonstrated how important the intangible loss of memory was, and by altering the landscapes - with streets, cafés, places of work and friends, family all gone - for many it's as if you've been denied the past.  It's hard to reminisce when everything has changed so drastically. 
I think and hope this is a temporary shock, as time goes by and new memories are made I suspect a healing process will occur that brings these back.  One development that's been interesting to reflect on is that as another anniversary has gone by I hear stories about some of the people I met.  Stories of moving on, perhaps shifting their focus away from the volunteer groups they organised, the groups that started in the aftermath of the disaster, and moving on with life.  It makes me optimistic about the future although the concern must remain that the many questions of how the area can be redeveloped and recovered are being left unanswered.  People are making do but in something of a void.  Time will tell and I would love to go back in a few years and see that things have evolved for the better.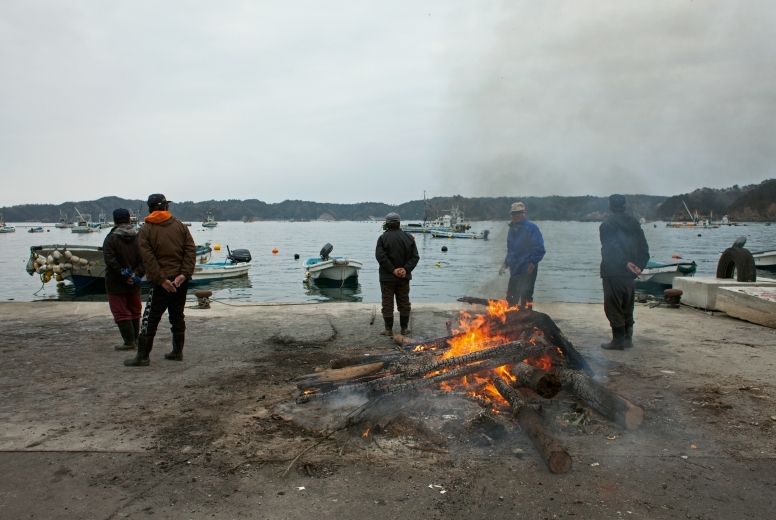 Could you tell us a little about the charities to which the proceeds from sales of Broken Things will go?
With the book's production costs covered, all the profits from sales are going to two local charities, both very much dedicated to working with local communities in Tohoku.  They are O.G.A for Aid, which is based in Minamisanriku, where their mission is to establish a long term support system which local residents and victims of the disaster may use to regain their lives and livelihoods. They have also launched an interesting green farming project where unused farmland is being put back into use by unemployed local people. 
Also It's Not Just Mud, which is a vibrant volunteer organisation I visited at the end of my trip. It operates from two tsunami damaged houses in Ishinomaki. The constantly revolving mix of foreign and Japanese volunteers are helping in many different ways in the local area, including clearing debris, rebuilding homes and helping to set up activity groups and businesses in temporary housing. 
Can we expect more photo books from you?
Hopefully. It was a huge learning curve making even this quite simple book but it was an overwhelmingly positive experience. I got to work with a very talented friend Stu Armstrong who did the layout and overall design including the cover font. The printers sent endless samples of different papers and I would spend long periods of time browsing through books. This packaging and design side of the process was a lot of fun (with the occasional nervous moment thrown in) but I really enjoyed the sequencing of the images, teasing something of a narrative out of them. It was as simple as following the route I took, but by ordering images within each of these phases of the journey in different ways it started to project different feelings. I remember when I chose the final order when looking through A4 print-outs of the images it took me straight back to six months before in Tohoku – the emotional impact was powerful.
So yes, I'd love to do another book. It's also a brilliant excuse to go out there and work on another project. For now though, I'm satisfied with my obsession for other people's photo books. My proudest possession is a poor condition first edition of William Egglestone's colour photography classic 'Guide'.
You're also a big music lover, aren't you? Who are you listening to at the moment? 
Bonobo's latest album is on repeat, it's pretty much the perfect antidote to rush hour on public transport, sending you on a parallel journey free of armpit versus face moments, and I'd love to catch the album played live. Totally different but equally great is a compilation of 'Funky Blues' from '70s West Coast USA with the great title 'Shattered Dreams', and given a melancholic moment I'll put on Chromatics' album. I listened to this album on the many long nights working on the book last autumn and winter. The Disclosure record is fun and there's a young British singer called Luke Sital Singh who's great, there's a hint of Bon Iver in his voice.
Any advice for aspiring photographers?
I think the best advice is something very simple I try and remind myself about all the time. Take the opportunity first and worry about things later. Be that a single shot you wished you'd had the guts to take (I can remember almost every one of those moments I didn't grab) or a job that you're not sure you have the skills for yet. There's nothing like a bit of fear to make for good photography.