February 08, 2017
Running for Crayons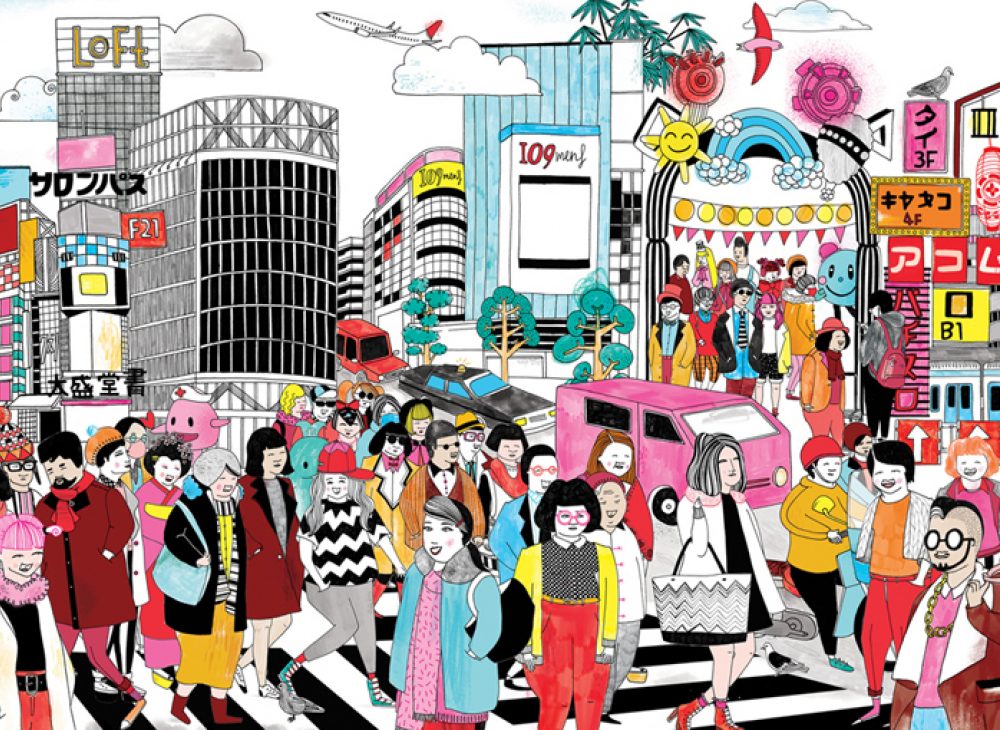 We spoke to Tilly, the talented illustrator behind Running for Crayons.
We love your illustrations - there's so much wit and affection in the scenes you depict! How important is humour in the work you create? 

It is an important factor for me, but more important is that the character is believable and that I feel a connection with them. I call them my Made Up Friends. I have to be able to imagine parts of their personality, what their flats would look like, what their jobs would be, would they go down the pub or to a wine bar, for example.
We were struck by the hints of Quentin Blake in your characters. Is he an inspiration? Who else do you take notes from? 
I am flattered that you think that. I've always loved Quentin Blake.
I'd say the people around me more than anything; people-watching with my sketchbook is one of my favourite things to do, especially in a new faraway city like Tokyo!
Other illustrators I admire are Carson Ellis, Marc Martin, Laura Carlin and Yelena Bryksenkova, to name a few.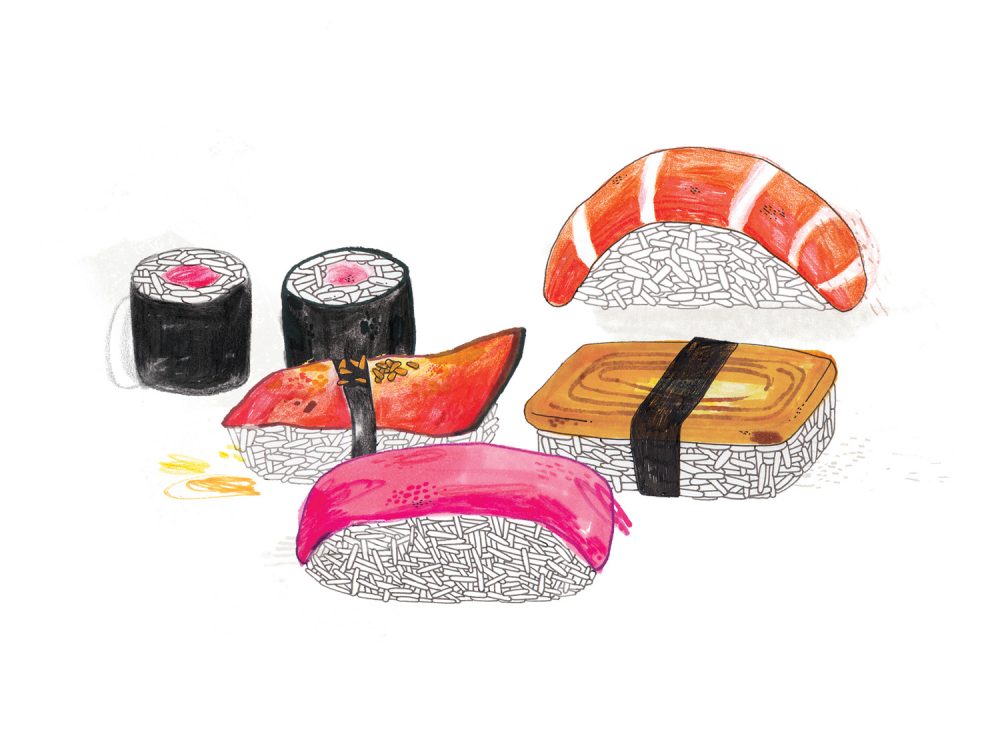 Your MA was in Sequential Illustration and Design – what drew you to this discipline in the first place? 
I was studying an illustration BA and wanted to carry on developing my work. It was a good way to develop my sequential skills. It's helped greatly with my book work and most recently with animations.
What are your preferred tools when illustrating? 
My favourite tools are my trusty 0.05 and 0.1 black fine liner pens, a good variety of grades of pencil, some colouring pencils, old fading felt tips and shiny new pigment markers. I like the combination of different materials blending together. I also use Photoshop to finish colouring, and to add texture.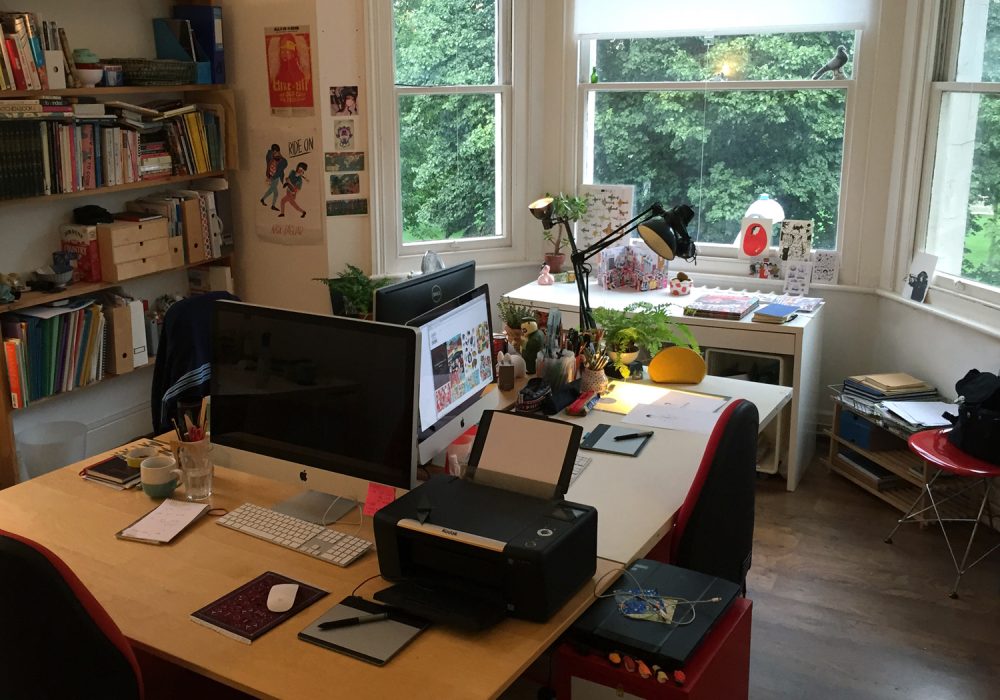 Your drawings span a range of subjects - from maps to animals, peoples and buildings - and with your commissioned work I imagine there's no limit to the requests that are put to your pen. Do you balk at the prospect of new subject matter, or do you welcome the challenge of depicting something different? 
I love to draw something new. It keeps work exciting and I think it's good to challenge yourself, push your work in new directions and diversify your portfolio, as long as you enjoy drawing those subject matters as they inevitably turn into commissions. I've always been comfortable drawing people and buildings, but I've only really been drawing animals and food for the past couple of years. In my downtime, I would practice drawing different breeds of dog or what I was having for lunch to strengthen my style, and now they both feel like comfortable subject matters to draw.
Your illustrations are centred on people - their funny eccentricities and quirks - and are therefore a kind of story-telling, a means of communicating something about the human condition. Is the way you work realist, in the sense of portraying exactly what you see, or do you give your imagination licence to roam? 
I would say that it is 50/50. I love to people-watch and draw the characters in front of me, but then I'll go off on a tangent and accentuate aspects I find interesting, such as a standard straight trouser leg which I'll make into giant flares. I also love to draw patterns, so a character might be wearing a plain mac and I'll add a nice bit of leopard print!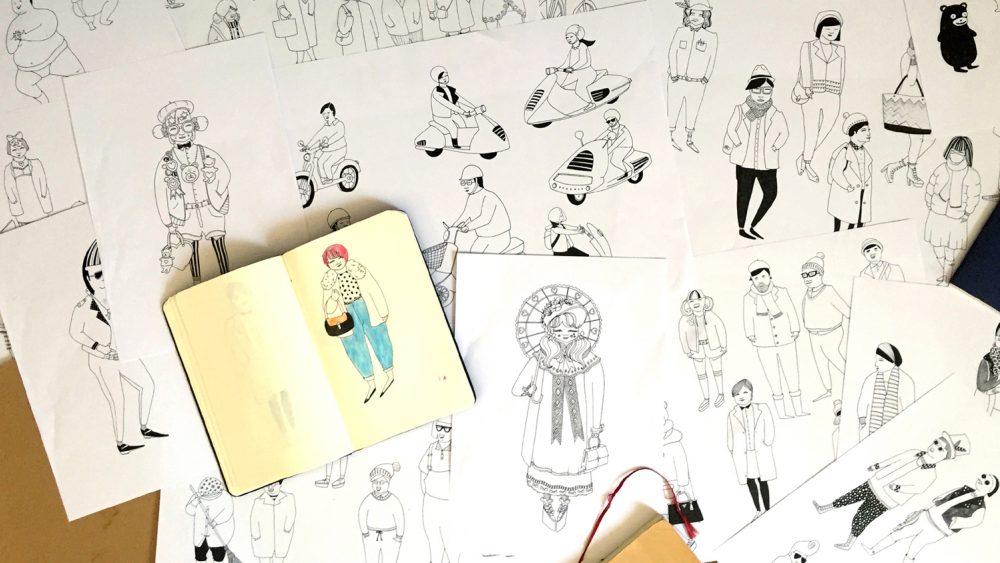 We loved your Tokyo-inspired illustrations. What was it that appealed to you about Japan?
More than anything it was how different it was, a sensory overload, a colourful and packed city full of juxtaposed buildings. It gave me the opportunity to see and try so many new things and inevitably get caught out along the way - like the time I thought I was going to be eating a pink sweet which turned out to be fish! I love all the different types of fashion and how extreme and passionate the Japanese are about style. From Cosplay, to Lolita, Gothic to Rockabilly, and of course the beautiful geisha ladies in their incredible intricately detailed kimonos.
How do you go about portraying a new place? Do you begin with minute details, or broader impressions? 
I generally pick broader sections and parts of places I find interesting and collage them together to build up an area. I don't tend to draw everything I see, just what jumps out at me. Then I'll add in the finer details to try and give a sense of the atmosphere and feel of the place, such as the signage, typography, types of trees and cars, and the different kinds of people walking about.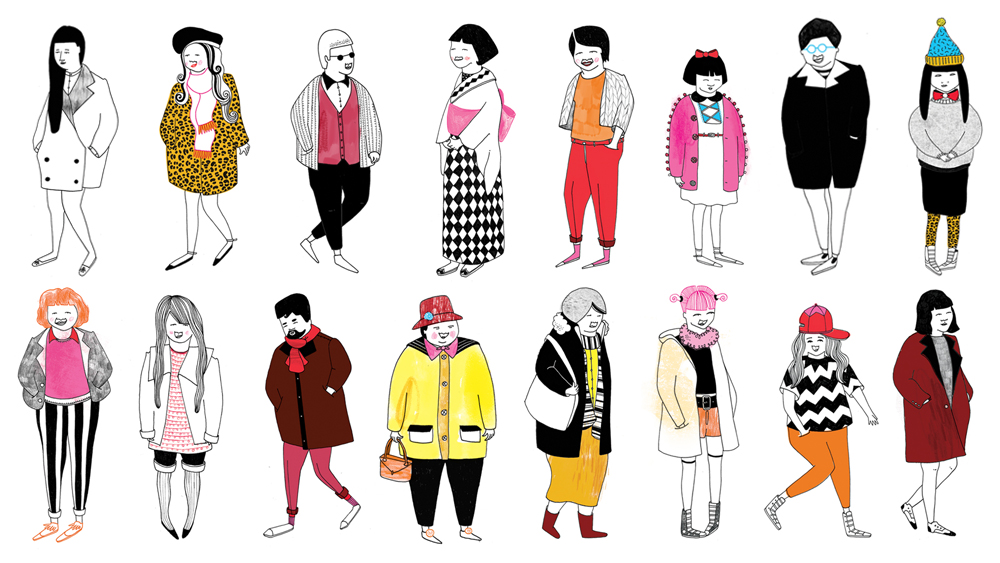 The start of the year is a time for looking forward and making resolutions. What direction do you hope to take your work in 2017? Are there any exciting projects in the pipeline? 
I've got lots of exciting projects on currently, though I can't say much about them at the moment. I'm working on a few animations. The first one will be published shortly and I'm about to start sketching the second one; they've both been fun and challenging to work on. Today I'm going to start a big map that has a slightly different brief to normal, featuring lots of people and a few scenes, which makes it interesting.
Direction-wise, I would like to make more time to do my own projects. 2016 was amazing for work, a whirlwind of different projects which left no time to work on personal projects. I would like to look into doing a residency somewhere, or maybe just take a week off and go to a random city to draw again.
Finally – we are compiling a list of our interviewees' favourite spaces/places in both Japan and the UK. We're keen to know yours?! 
I love the vintage clothing area of Shimokitazawa, with its winding streets full of amazing finds and great coffee shops. Or the mind-blowing area of Dōtonbori in Osaka; even though it is a tourist mecca, the crazy signage still makes it a favourite. I mean, who doesn't love a giant moving crab on the front of a restaurant! Kyoto would also have to be included: a beautiful place full of tradition and natural beauty. Visiting any of the gardens was always a highlight, the detail was incredible and the atmosphere so calming!